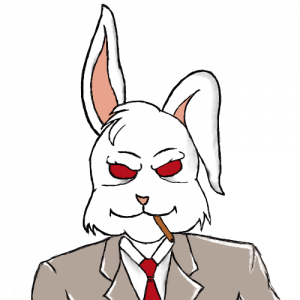 Your dosage of unfiltered posts and gamma radiation. Your BFF (Blog for FUN).
(Disclaimer: May contain profanity & a few mind rotting articles)
Do not scroll down if you're someone who values restraint. Otherwise, enjoy.
Oh hello there! This is a bit awkward. I might not be able to introduce myself completely. I'd like to be partially shrouded as I journey through creating content for this blog. I love a good mystery, thus being a bit mysterious about my identity sounds appealing. Also, the comfort of being in a cool and tiny dark hole soothes me.
However, here are some few things I'd like to be candid about.. This blog for fun shall be free of any annoying restraint. I'm a web developer, an occasional ghost writer, and a sales professional. I love rabbits and I hate cats. Dogs are okay as long as they don't eat the cuddly ones and fucking behave themselves. 
The only thing that scares me are cockroaches. I hate them with every fiber of my being. Why? aside from them being cocks, some actually had an orgy on top of my naked stomach when I fell asleep under my bed as a kid. Fuck you trauma! Hmm wait, too much, not restraint, just running out of space. Well enjoy.